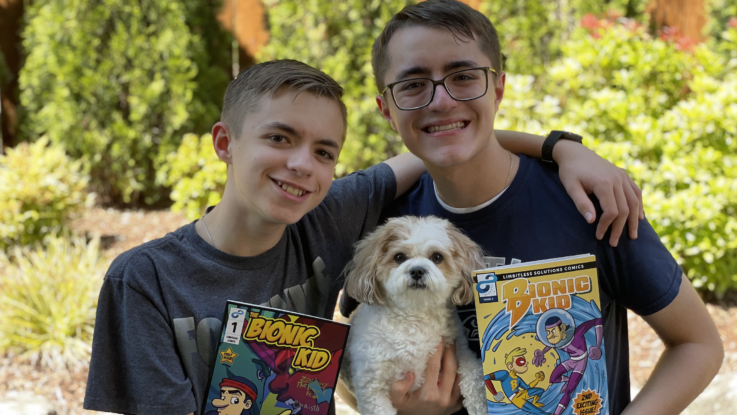 One of Limitless Solutions' bionic arm recipients created an inclusive-focused comic book series, which caught the eye of two Hollywood actors. They helped to promote its sale, raising money that will benefit a local child.
Apair of teen brothers have successfully raised more than $11,000 through the sale of a comic book series — The Bionic Kids — they created, all to pay it forward by sponsoring a Limbitless Solution's bionic arm for another child. They did it with the help of two Hollywood actors who appeared in Guardians of the Galaxy 2 and television show Shadow Hunters.
Zachary and Christo Pamboukas connected with UCF-based Limbitless Solutions in 2014 when the boys' family reached out to the nonprofit. Zachary, then 9 years-old, is missing his right arm because of a birth defect and the family had heard about Limbitless Solution's bionic arms program. The organization, established by then students at the University of Central Florida, creates functional arms with artistic and expressive covers and provide them to children at no cost. In 2014 Marvel authorized an Iron Man version of the arm for one recipient, which was delivered by actor Robert Downy Jr. Limbitless now has two clinical trials underway with the hopes of getting the bionic arms authorized for coverage by insurance companies. The nonprofit raises money to cover the costs associated with the trials – about $10,000 for each child.
Zachary received an arm in 2015, which his family says changed his life. The young boy wanted to pay if forward, so he and his older brother Christo created The Bionic Kid, where one of the heroes is limb different. The family reached out to Limbitless Solutions again. Matt Dombrowski '05 '08MFA — associate professor of animation at the UCF School of Visual Arts & Design (SVAD) and Limbitless' creative director — and SVAD Associate Professor Victor Davila '97 '07MFA went to work on the artwork of the first comic book. It was released in December 2018 and was sold online. The boys presented their comic at several conventions. It was at Megacon Orlando in 2019 that Zachary met actor Michael Rosenbaum (Smallville, Guardians of the Galaxy 2, voicing several DC Comics animated characters).
"This kid is a true inspiration to us all," Michael Rosenbaum said after meeting Zachary. "I've never met someone so genuinely happy, funny and sweet. His attitude is beautiful. And what a talent."
Rosenbaum helped promote the work of the teens via his social media accounts helping the boys raise about half their goal. Meanwhile, the now-teens collaborated with Dombrowski and Davila on comic book issue two, which was released in July 2021.
The boys, with the support of their family, remained determined to reach their goal of $10,000.
"I am truly grateful to have played a role in Zachary and Christo's mission," Dombrowski says. "This project exemplifies the impact an individual can have when one voice is collectively amplified and drives me to continue to amplify the voices of the underrepresented in hopes of a more positive tomorrow."
In September 2021, actor Dominic Sherwood, (Shadow Hunters, Modern Family, Showtime's Penny Dreadful: City of Angels) pitched in to promote the second issue of the comic book to his 2.5 million social media followers. That and a donation from MoxiWorks, a SaaS (software as a service) provider for large brokerages in the real estate industry, put the brothers over the top.
"Everyone who helped is a hero — that's the cool part of this," says Zachary.
The money will cover the nonprofit's costs of one child to participate in an upcoming clinical trial. The nonprofit recently announced an upcoming Limbitless Solutions clinical trial with Orlando Health Arnold Palmer Hospital for Children.
"We are so grateful to Zachary, Christo and their family," says Albert Manero '12 '14MS '16PhD, chief executive officer and co-founder of Limbitless Solutions. "Our mission is to empower confidence and we are so proud to see how Zachary's heart and creativity is changing the world."