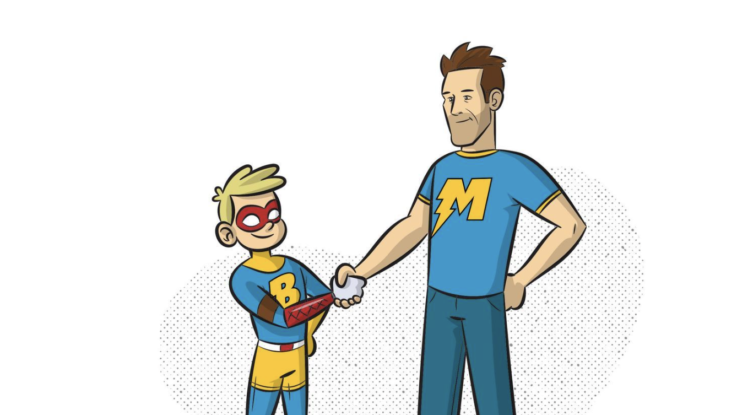 What do two inclusive comic books, the second largest university in the United States, two Hollywood actors, multiple Fortune 500 companies, and a nine year old boy over a 4 year span have in common? Answer: A campaign with world wide reach that raised over $11,000 in donations to help a child with limb difference receive a 3D-printed bionic arm.
In 2015, I met the Pamboukas Family through Limbitless Solutions, a non-profit direct support organization at the University of Central Florida (UCF) in Orlando, Florida with a mission to empower confidence and increase accessibility in the limb difference community through art-infused bionics.
Around that same time, nine-year-old Zachary Pamboukas had just received a prototype 3D-printed Limbitless Solutions bionic arm.
I am an Associate Professor of Animation at the UCF School of Visual Arts & Design (SVAD) and serve as Creative Director at Limbitless. Six years ago, I began work with Limbitless to help develop the creative visuals for the bionic arm and training video games, and promote our mission of inclusivity and creativity through visual storytelling.
Upon meeting Zachary, his older brother Christo, and his parents (Niko and Rachael), I was instantly drawn to their positivity and energy. Meeting the family truly changed my outlook on research, creativity and how visual storytelling can amplify a message.
Later, in December 2017, I was approached, once again, by the Washington State-based Pamboukas family when they shared a story Zachary and Christo had written. The "Comic Manifesto," as we affectionately named it, was a story written by the boys to address things they cared about – how people with limb difference are represented in media, how to speak about disability, and how we deal with bullies through non-violent ways.
The original idea was inspired by an experience Zachary had when he was approached by a little boy at an aquarium who wanted to ask him about his limb difference. The boy's father immediately told the boy not to speak to Zachary "because he was different."  Zachary, who was always taught to be open about his disability, was confused why the father would tell his son not to speak to him.
This prompted Zachary to ask his own father questions about his new 3D-printed bionic arm, how other kids could get one, and how much an arm would cost a family. Bionic limbs in the United States are often cost prohibitive for families. This can be due to lack of coverage by insurance companies, or the rate at which a child grows, which can make a bionic cost prohibitive until after an individual turns 18. Zachary asked his father what they could do to help spread awareness for Limbitless and the limb difference community.
"How can we raise money to help kids around the world that need bionic arms?"
As a result, Zachary and Christo decided to write a comic book where the proceeds would benefit another child with limb difference to receive the same Limbitless Solutions experience he had. Niko sat down with the boys and began to transcribe their bionic story. Zachary and Christo wanted to portray a superhero who was born with their limb difference, not receiving it in a tragic accident or treated as a villain, as is typical in mainstream media.
I received an email from the Pamboukas family with the "manifesto" asking if Limbitless could help create this comic. With help from my UCF SVAD colleague Victor Davila, an illustrator by trade,  we began the process of bringing their story to life.
During the year it took to produce the comic, Zachary was busy telling his Limbitless story on why representation matters. In February 2018, during a BBYO (formerly B'nai B'rith Youth Organization Inc.) presentation, Zachary announced his comic collaboration with Limbitless to over 3,000 teens.
This announcement aligned with another big announcement for Limbitless. In May 2018, Limbitless announced that they would be conducting the first clinical trial for 3D-printed electromyographic prosthetics for children in the United States in partnership with Oregon Health and Science University (OHSU). The clinical announcement made national news and allowed Zachary's pay it forward campaign to be amplified even further.
The Bionic Kid: Bionic Beginnings Issue 1 was released on December 10, 2018! The Pamboukas' goal became to raise $10,000 in support of a future Limbitless "bionic kid." The family worked with a Seattle based printer (Minuteman Press) and the family and donated the printing costs for the effort.
Zachary's pay it forward message started to really get noticed in January 2019 by getting the attention of media outlets in both Florida and Washington State.
Zachary's efforts were celebrated in February when he was recognized as part of 12 Under 12, a series about kids doing great things in the world. News Station is the Sponsor, Kaiser Permanente offers the award, 12 kids in the Pacific Northwest are selected.
In May 2019, Limbitless and the Pamboukas family were invited to MegaCon Orlando, and hosted both a booth and a speaking panel. This event attracts over 100,000 fans each year across four days. Zachary's pay it forward campaign soon became a hit with media, celebrity panelists, and attendees alike at the convention.
One celebrity that Zachary caught the eye of was actor Michael Rosenbaum (Smallville, Guardians of the Galaxy 2, Sunspin). The actor was immediately inspired by Zachary's energy, positivity, and drive to raise awareness for the limb difference community, and Rosenbaum has helped support and amplify Zachary's campaign on his various podcasts and social media platforms.
"This kid is a true inspiration to us all. I've never met someone so genuinely happy, funny and sweet. His attitude is beautiful. And what a talent! I love this kid." ~Michael Rosenbaum
In November 2019, Limbitless and the Bionic Kid comic's creative campaign to empower was highlighted by Adobe CEO Shantanu Narayen to over 15,000 attendees at the keynote of the annual Adobe Max event. The highlight emphasized how creative tools can be used to raise awareness, and inspire and empower underrepresented communities.
The Pamboukas family's journey continued in January 2020 when they visited 343 Industries, makers of the Microsoft Halo video game series. Zachary would receive a Limbitless Solutions bionic themed after the Halo character Master Chief. Upon his visit to the studio, Zachary shared his own story as he delivered comics to 343/Microsoft staff.
One thing I was always surprised about was the world wide reach of the comic. In April 2020, I joined the Pamboukas family to virtually present at the AEComicsVX to International Class. The AE Global Comics Virtual Exchange (#AEComicsVX) was a pilot program through the US Department of State from 2020-2021 to develop a teacher training community of practice for English Access Microscholarship teachers worldwide in how to design and implement educational projects that use comics to teach American culture, English, and media literacy. The Program's goal was to create mutual understanding between the people of the United States and the people of other countries and strengthen ECA's goal of supporting the involvement of American and international participants from traditionally underrepresented groups, including women, racial and ethnic minorities, and people with disabilities. Zachary, Christo, Niko and myself virtually connected with dozens of educators around the world that were in the process of developing comics regarding representation in their communities. We shared the importance of visual storytelling and using comics to tell often difficult stories.
At the start of 2020, Zachary and his family had almost raised half of their campaign goal. Due to the overwhelming success of the first issue, we collaborated to release The Bionic Kid's second issue in July 2020. The Pamboukas boys were more determined than ever to reach the $10,000 dollar goal.
In May 2021, Michael Rosenbaum once again helped amplify the pay it forward campaign through helping Zachary announce the release of Issue 2. Michael even makes a cameo in the second issue of the comic recreating their first meeting.
We always say that the Limbitless mission is inspiring and far-reaching. In September 2021, Shadow Hunters star Dominic Sherwood was inspired to join the pay it forward effort and amplify Zachary's campaign to his own fanbase on social media, totaling over 2.5 million followers. Sherwood's efforts would lead to comic book purchases and interactions from fans worldwide, who purchased the comic, or shared their own ways to pay it forward, and make a positive impact in their communities.
In November 2021, the comic's impact was once again featured on the world stage at the Certiport Adobe Certified Associate World Championships. In its eighth year, the competition attracted more than 65,000 contestants from 65 countries to prove their superior digital communications skills using Adobe Photoshop, Illustrator, and InDesign. The contestants were tasked with creating a poster showcasing the Bionic Kid comic, and ten finalists from all around the world were chosen to have their poster designs showcased.
Much like the Limbitless mission, The Bionic Kid comic and the idea to pay it forward started as an idea at a kitchen table. An idea that set out to help one other person, to create positivity in the world, and showcase that representation matters. One of the most amazing things is to see this seemingly small project from the imagination of a then nine year old could achieve worldwide reach through so many unique industries and voices.
From Hollywood, to video game companies, to comic conventions, the positive impact of this project never ceases to amaze me and I am truly grateful to have played a role in it. When I first met Zachary and his family, they taught me the importance that creativity can have on one person's life, changing my approach to creativity, teaching and inclusivity. Today, I see the impact an individual can have when their voice is collectively amplified, driving me to continue to amplify the voices of the underrepresented in hopes of a more positive tomorrow.
With that said, I am thrilled to announce that in December 2021, the family has reached their goal! Inspired by employee Niko Pamboukas and his family's journey, his peers and his employer, MoxiWorks, joined together to donate $5,000 to complete the family's pay it forward journey. Moxiworks is a SaaS (software as a service) provider for large Brokerages in the Real Estate Industry.  The campaign's donation will directly benefit a child to be selected in the upcoming Limbitless Solutions clinical trial with Orlando Health.